Patio heaters have been skyrocketing in demand near Chicago, IL. When temperatures drop, the weather may not suitable for an outdoor social function or dining experience. Decreases in temperature can potentially ruin weeks of planning, forcing your guests huddled inside for warmth. For this reason, investing in a patio heater can grant you some level of control over your outdoor domain.
Why Buy A Patio Heater
Outdoor patio heaters are the most efficient technology for heating an outdoor setting. Other measures, such as fire pits and fireplaces are a bad idea for a multitude of reasons. Firstly, open fires used during social gatherings can be dangerous. Fires often spread to other materials, and your patio is no place for uncontrolled flames. Outdoor fireplaces and stone fire pits can also be highly expensive to have installed. Fireplaces are aesthetic furniture pieces and require additional materials in order to build. What's more, fireplaces and fire pits typically depend on wood as fuel. Burning wood adds to the cost of fire-based heat sources outside.
Benefits Of Patio Heaters
Patio heaters produce perpetual heat, without the use of open fires, meaning that they are much less dangerous. Without the use of open flames, patio heaters are more appropriate for social occasions, especially those with children or with crowds of people. There's no need to worry about flammable substances being near your patio heater. Outdoor patio heaters do not require additional materials, no stones, wooden logs, bricks, or stone. Patio heaters are truly a one-time purchase that only costs you a little more on your heating bill at the end of each month.
Not only do patio heaters save space (when compared to fireplaces), and save money on installation and burning materials, but they are also portable! Patio heaters may be transferred between outdoor and indoor settings. This makes patio heaters useful for individuals who like to move between spaces, including campers, backpackers, travelers, and road-trippers.
Infratech Comfort Heaters
Infratech's electric comfort heaters are generally regarded as one of America's top infrared heating brands. One of the most notable perks of the Infratech comfort heaters is that they will do not automatically power off when exposed to wind speeds above 15 miles per hour. This feature makes them reliably durable heaters which are built for more adverse weather environments. Infratech heaters are praised for being eco-friendly; they are energy-efficient heaters that are not powered by gas and therefore do not directly produce any emissions.
Sunglo Patio Heaters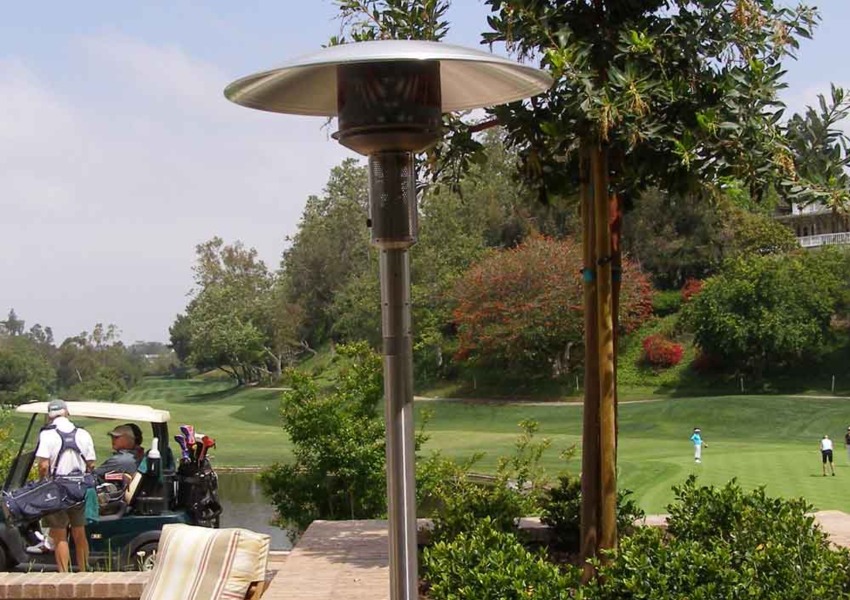 In North America, Sunglo Patio Heaters is one of the most popular commercial and residential outdoor heating systems. The popularity of the Sunglo heaters may be due to the fact they were released in the 1960s and have been part of American homes and businesses for generations.  Equally as important, Sunglo heaters use built-in reflectors to distribute heat, making them ideal for large gatherings.
Sunpak Patio Heaters
Sunpak Patio Heaters are specially made for outdoor occasions and therefore require a constant stream of fresh air to function optimally and to properly ventilate. These specialty heaters run on propane and other natural gases. Sunpak heaters are usually mounted on walls or ceilings and shut off in the event of spark ignition. Their safety features and mounting capabilities make them perfect for both intimate indoor and outdoor gatherings.