---
Why Patio Heaters Are Popular In The US
The demand for patio heaters is growing in the United States and other countries. The Patio Heater Industry is expected to grow 5% in the coming years and is expected to accelerate year after year. (1)
It should come as no surprise that more people are looking to enjoy their outdoor space because more states are experiencing warmer nights than ever before. (2)
With eye-opening features from home TV channels, electric patio heaters continue to be a popular choice for residents and home builders. The popularity is due to the patio heater's ability to maintain a warm temperature outdoors.
---
Types of Patio Heaters
When you look for heaters to support your outdoor space, you come across plenty of variety and different types of heaters. It is important to know which heater is best for your application.
A common type of heater that is the portable space heaters. These heaters are designed for small areas or small rooms. Generally safe to use, space heaters are usually fan-forced.
Garage heaters are used for less-insulated places and require a lot of energy. Providing high blasts of warm air, garage heaters are a good fit to temporarily cover large areas.
Infrared heaters do not work through convection but instead emits a beam of heat directly to objects and instantly warms you up without the wait of most heaters. This type of heater is becoming more trendy in the US due to the effectiveness and speed of the heat.

Leading this trend and also recently featured on HGTV's Property Brothers, Infratech has been in the electric infrared heating industry for over 50 years. Infratech makes a variety of infrared electric heaters for all of your outdoor needs.
TNG Industries is a top distributor for Infratech, Sunglo, and Sunpak heaters. With service available in all 50 states, TNG Industries is the place to go to get your outdoor heaters.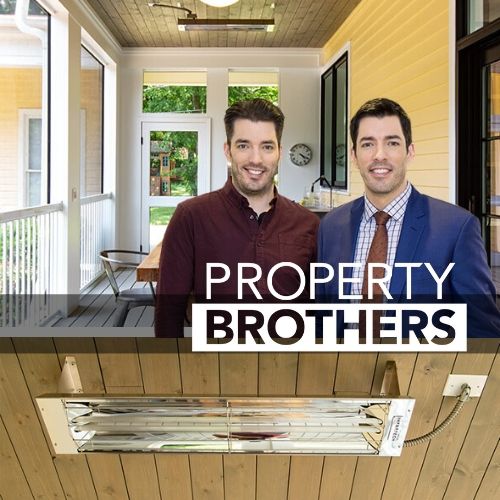 ---
Infrared Patio Heaters
Most Infrared electric patio heaters are divided into 3 different categories of heating; short wave, medium wave, and long wave.
Short waves penetrate deeper into an object and provide instant heat at a certain radius. Medium waves are a happy medium between short and long waves with the intensity in the middle of the spectrum.
Infratech Electric Quartz Infrared Heater offers premium medium wave heating that is perfect for gatherings and provides comfortable heat intensity.
It is worth noting that any of Infratech's Patio Heaters do not heat surrounding air due to wavelength of light that is absorbed solely by objects and skin.

---
What's the best heater for my commercial space?
Nothing is better than enjoying your dinner on a well-lit patio with a gorgeous night view of the surroundings. Unfortunately, this luxury is not always available when the night turns into a freezing disaster.
For this kind of situation, it is best to use an industrial electric heater. Bigger areas such as restaurant patios, verandas, and large terraces require longer reach and higher intensity. Infratech's CD-Series Dual Element Heaters provide sufficient range and intensity for these applications.
These Industrial sized heaters offer a convenient way to customize your climate and are 90% energy efficient.
Keeping your clients warm and comfortable is a great way to boost visits and revenue. Having an industrial electric heater serving outdoor accommodations can play a significant part in the client's decision to return.
---
Controlling Your Outdoor Heaters
Many people wonder if they can change and customize the heat for different conditions? There are 3 different ways you can achieve this using Infratech's Custom Controls.
One is utilizing the Solid State Control Packages, which allows you to adjust the heating intensity, control one or more heaters at a time, and include a timer option for maximum control.
The next control is the using a Home Management System, this is perfect for anyone wanting to integrate Infratech into their current system. This becomes powerful as you will be able to automate any control simply by using your mobile device and setting up preferred settings for your comfort needs.
Lastly, Universal Control Packages allows you to have simple controls with a dimmer and timer that is perfect for any establishment.
"Alexa, Turn On Heaters In The Patio"
That's right! Infratech Patio Heaters have voice-activation options and are changing the way we interact with our home. Infratech realized the opportunity here and created a system that is compatible with smart home assistant devices like Amazon's Alexa.

---
Conclusion
Spring 2020 is approaching quickly and many home builders and homeowners are looking for new ways to improve the experience of their clients. Our recommendation is to incorporate Infratech's variety of heaters and pick a color that best matches the home. Find out more information on all of our outdoor heaters here.
Call our distribution center for free quotes at 708 – 449 – 1100.